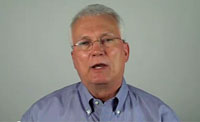 Need more? Click on the image to hear Ron's message to ASA members regarding their involvement in legislative matters.
The Automotive Service Association (ASA) will hold its annual business meeting May 9-11, 2011, at the Gaylord National in the Washington, D.C., area. ASA members nationwide will meet to share ideas, network and tend to association business.
The culmination of the annual business meeting will be ASA's "Taking the Hill" Day May 11 allowing ASA members to meet with policymakers on Capitol Hill to discuss key industry issues.
"Getting involved on the legislative front is very important in our industry. It is crucial for ASA shop owners to have as many people as possible to represent the issues that affect our day-to-day business.

"I considered it a privilege to be able to express my views and really feel like I was heard at ASA's Capitol Hill Fly-In." – Sue Martin, Mansfield, Ohio